2a: What is Letterland
About Letterland
Letterland was created by Lyn Wendon in the United Kingdom in the late 1960's as a way to help students who struggled with learning to read. Her students particularly had difficulty retaining letter-sound correspondences, but she found that they responded well to an Orton-Gillingham approach to teaching phonics that incorporated creative visual cues and simple stories that were easy to remember. Lyn eventually created an imaginative land where letters live as engaging characters designed to help children read. 
Today, Letterland is used in 111 countries worldwide, including the United States where it has been adopted as the core phonics program in numerous states.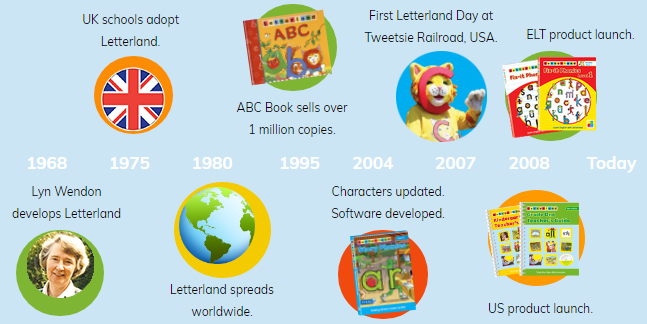 Letterland Highlights
Children in Letterland classrooms sing, dance, act, talk, listen, read and write every day, constantly guided by their Letterland friends. Teachers first encountering Letterland immediately notice how active, fun and engaging it is for children, and how creative it can be for themselves. Each letter in the alphabet is assigned a Letterlander, a character whose personality and story act as a cue for teaching letter-sound correspondences. The characters and their stories then expand over the years to address countless phonic concepts. Children grow to love these characters that have anchored their learning. Lessons are thoughtfully designed to provide direct, explicit and multi-sensory instruction in a developmentally-appropriate manner. 
Here are some of the key features of Letterland that you will learn more about in this course: 
It is a complete, PreK through Grade 3 phonics program for teaching phonemic awareness, word recognition, spelling, fluency, handwriting and morphology.
Lessons provide foundational literacy instruction for all students, with additional intervention lessons for supplemental instruction.
Lessons are structured using a systematic sequence of instruction aligned to Orton-Gillingham methodology. 
Placement and progress monitoring assessments are built into the lesson structure.
Curriculum content is tightly aligned with the foundational literacy strand of the Common Core State Standards as well as those adopted by individual states. 
It is evidence-based with a proven track record for more than 50 years in over 100 countries. 
Professional Learning Extension
Go to pages vi and vii in your Kindergarten Teacher's Guide, Vol. 1 and read a message from Lyn Wendon and the co-author of the U.S. version, Stamey Carter. 
To learn more about the history of Letterland view the document below.
History of Letterland.pdf
Complete and Continue