2f: Teaching Beginning Reading
There is wide consensus from reading research, summarized in the National Reading Panel (NICHD, 2000), that children need instruction in five major reading components (phonemic awareness, phonics, fluency, vocabulary, comprehension) as shown in the graphic below. Concurrent research emphasizes the importance of rich oral language discussion and read aloud as a critical component that should be integrated into all instruction to support successful acquisition of basic reading skills.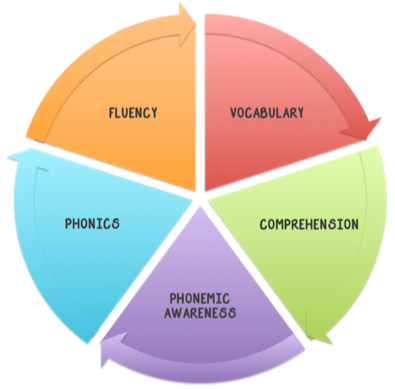 A few years later, the National Early Literacy Panel Report (2008) published their meta-analysis of the research focusing on literacy development for children from birth to age 7. Their work reinforced the five components of reading identified by the National Reading Panel. Specifically, the panel identified the following early literacy skills as being reliable predictors of later literacy success. The first three are considered to be key factors in a young child's reading ability.
alphabetic knowledge
phonological awareness & memory
oral language
rapid, automatic letter naming
writing/writing name
print knowledge & concepts of print
visual processing
reading readiness
Professional Learning Connection
Letterland is a complete resource for teaching phonemic awareness, decoding & encoding strategies (word work strategies for reading & spelling), fluency and handwriting. In addition, opportunities to teach and develop vocabulary and comprehension skills are embedded throughout Letterland lessons. To read a summary of the research related to Letterland as well as academic testimonials, click here.
Go to page viii in Kindergarten Teacher's Guide, Vol. 1 and read the "Introduction" that describes how Letterland is closely aligned with the findings of the National Reading Panel. 
Additional Module Resources (optional)
https://achievethecore.org is a non-profit site dedicated to providing free tools and resources to support teachers using the Common Core. This link takes you to the professional development modules on foundational literacy.
http://reading.uoregon.edu/ While the project is no longer active, the site remains as a resource for teachers.
Complete and Continue